Clean Room Doors Features
For Interior or Inward applications.
Designed to satisy the sterile and tough necessity of unpolluted rooms.
A Single / Double entryway.
Customized according to prerequisite.
Acoustic.
Hamper Bacteria Growth.
Flush Surface, Easy to Wash.
No leakage.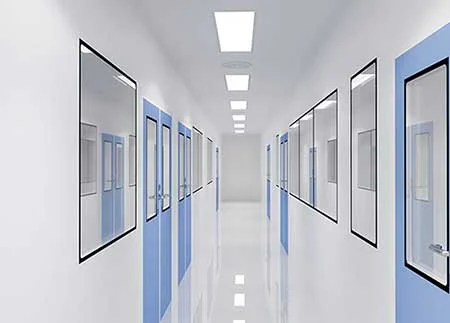 Request A Quote
There are many different types of clean room doors manufactured and supplied, including sliding, swing, and bi-folding doors. Each type of clean room door is designed to meet specific needs, with sliding doors offering maximum opening space, swing doors providing easy accessibility, and bi-folding doors offering a compact solution for tight spaces.
When choosing clean room doors, it is important to consider the specific requirements of the controlled environment, including the size and layout of the room, the level of cleanliness required, and the type of equipment or processes being performed. This will help ensure that the door selected is appropriate for the specific application and will effectively maintain a controlled environment.
MK Clean Room Project Pvt. Ltd is a renowned Cleanroom door manufacturer and supplier across regions like Gujarat, Hyderabad, Mumbai, Assam, Himachal Pradesh, Africa, and India and offers a range of products to meet the specific needs of their customers. These doors are often made from materials such as stainless steel, aluminium, and PVC, and are designed to be easy to install and maintain.
In conclusion, clean room doors are a crucial component of any controlled environment, and choosing the right door is essential to maintaining the integrity of the sterile environment. With a wide range of products available from MK Clean Room Project Pvt. Ltd, finding the right door for your needs has never been easier.